Changer

Important part of our system InfoBoardRecorder® is Changer. Main function is to substitute inaccurate information from fuel tank (obtained from vehicle CAN bus) with accurate information from external probe IBR. All other data remains the original and are forwarded to the second CAN bus interface of Changer.
CAN message format remains the same (FUEL LEVEL, PGN 65 276, according to the specification SAE J1939), no changes or FW alterations are necessary in external unit. There is also an indication of the consumed fuel, which is obtained directly from the probe. This information is then sent in format (FUEL CONSUMPTION, SPN 250) but in specific message PGN 65 288.
Changer has two CAN bus interfaces and serial communication port RS-232 (optional TTL levels) for communication with an external unit e.g. InfoBoardForwarder (IBF).
Since there are two separate CAN interfaces, separation of vehicle CAN bus from the communication that takes place on the second CAN interface (messages from external probe IBR) is ensured. Interface connected to vehicle operates in "Listen only" mode. This ensures that there is no way for Changer to broadcast messages on the vehicle bus.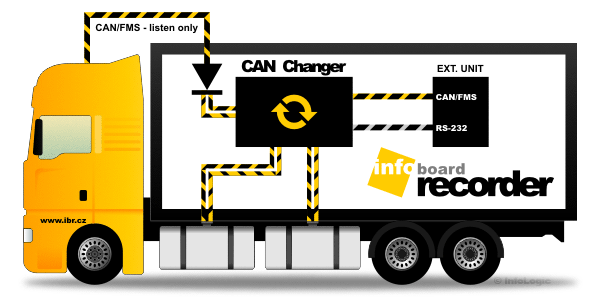 Technical product specifications
Power supply:
8 - 37V DC
Operating temperature:
-25°C – +70°C
Dimensions:
100×55×25 mm
Current draw:
~35 mA